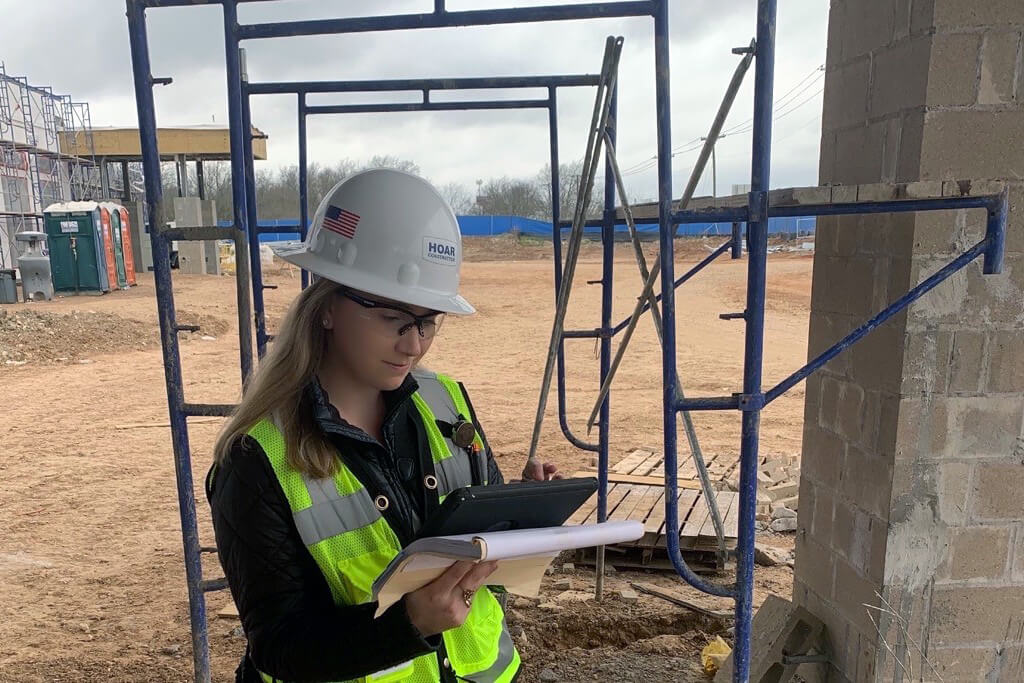 By now, we've all heard the post-pandemic unemployment crisis referred to as a "shecession," — more than half the people who lost their jobs in 2020 were women. In fact, just two major industries saw increases of women joining the payroll then before the pandemic — Utilities and Construction.   
In construction, approximately 30,000 more women  were on the payroll in 2021 than in 2020. So why is construction one of the only industries that isn't losing women, but actually gaining women workers? I think there's a few factors contributing to that, but there's also a lot more we as an industry can do to recruit women and help bring some relief to labor shortages, we're seeing industry wide in the process.   
What Changed? 
With the onset of Covid in early 2020, we saw a massive change in how we work every day. A lot of us had to learn to work from home for extended periods of time. One of the positive changes we saw with that shift that possibly encouraged more women to join construction was an increase in job flexibility. Some aspects of construction work — like our work in the field — by nature, are not very flexible. Our superintendents, assistant superintendents, and trade partners have to be on site to build. But, even in the field, we saw a massive push to meet virtually. Almost instantly, meetings that used to require travel for all parties, like OAC or design team meetings, could be held over a video call. Microsoft Teams became a great tool for working with our design teams and clients. Whether that be a submittal party over Teams or a site walk with your architect, it created a bubble for us to foster relationships with our designers and clients in ways that we hadn't been able to or thought of before Covid. If you needed to stay home for some reason, you could still make the meeting by computer which added some flexibility to the field positions.   
Other office roles in construction, like project management or preconstruction, saw an even greater increase in flexibility and work/life balance with the increase of virtual meetings and the ability to work from home when needed. For women who have other responsibilities outside work, the ability to work wherever you need to is a huge bonus — and not one traditionally associated with construction.   
New Opportunities Emerge
I also think women are starting to see there are a lot more opportunities in this industry than just the traditional construction roles. I think there's still a mindset that working in construction means you have to work every day on the jobsite, have boots on the ground, wear a hard hat and get dirty. But that's just one side of the coin. Working in the field is rewarding and can mature your leadership and problem-solving skills, but if that doesn't appeal to you, this industry also needs project managers and preconstruction managers. We need quality and safety specialists. It takes accounting, marketing, and IT specialists to make each project successful. There are legal roles and human resource positions that need to be filled. Not to mention, as technology evolves, so do the opportunities in the industry for skilled technology experts. Between VDC, BIM and construction technology like robots and AI tools, general contractors are adding new roles that demand science and technology experience.   
Being Essential is Essential 
Our industry has not slowed down. Our economy halted during Covid, but construction didn't stop. We all adapted and kept working. We've all in some way been impacted by supply chain issues, shipment delays and labor shortages, but the demand for construction remains consistent. Our teams have adapted, found creative solutions, and remained active. We've had to reimagine jobsite safety through the lens of a virus. We've implemented Covid protocol on all of our jobsites. We've had to adjust and adapt project schedules to smaller crew sizes. We've watched our leadership work with our clients to maintain those relationships despite schedule delays and price escalations. Unfortunately, not all industries fared as well as construction post-pandemic. Women in industries like hospitality and retail were hit especially hard by the economic shut down, with female employment dropping in some sectors up to 40%. A career in construction brings job stability – and I think more women are realizing that they want to do more essential work.   
Keep Growth Going
 An addition of 30,000 women to the construction industry is a good start. What can we do to build off that and recruit more women to our industry? Let's start earlier. We can start talking to girls in high school before they start picking college majors. That's a great chance for us to share that construction is a feasible option, and more importantly, a feasible, rewarding option for women. There's been a huge push in STEM in schools over the past decade. When I was in high school, our AP teachers pushed us to either become doctors or engineers, as if those were the only options. We are missing out on an opportunity to educate young girls that construction is science, technology, engineering, math and more — just like medicine and engineering. In addition, I think showing women that there are career opportunities that can thrive on their soft skills is an opportunity for us as recruiters. Understanding the value well developed soft skills add to relationship building in our industry is just as important as understanding the principles of actually building. This industry requires all of us (especially in the current economic climate) to plan ahead, to communicate clearly, to stay organized and on top of the ball, and work efficiently.   
From a trade perspective, I think young women need to know that trade schools are an option that can lead to financial independence and a steady career. Again, talking to girls in high school and educating them on apprenticeship programs and options other than college could be a great opportunity for us to recruit more women to construction. The skilled labor shortage is real, so there are quite literally endless opportunities for employment in skilled labor – and how cool would it be to see that need being fulfilled by young women? I'd love to start seeing more female apprentices and foreman leading work in the field, and I think it starts with getting girls exposed to construction at a young age.   
Get on Site Early
No superintendent in the field knows everything about all of the systems we build, and I think it's important to know that as a woman in the field, or even just a young person in the field, no one expects you to know everything. Managing crews, where they're working, what they're doing, and if they're meeting the deadlines you set for them, is just as if not more important than knowing how the systems they're working on actually work. Looking at a set of drawings, understanding a spec book, all that goes into hiring our trade partners, the precon process – it can all be overwhelming if you can't visualize what all of that work will become. Working on a jobsite and learning how the details of the office work contribute directly to the success of the field work is like the last piece of the puzzle you need to see the whole picture.  
My little sister is in middle school, and I drive her crazy all the time asking her what she wants to be when she grows up. I have FaceTimed her from jobsites to show her what working in the field looks like. She's seen what me working from home looks like. She's been exposed to construction as much as what I can show her from a screen. When I was her age, I didn't know anyone in or anything about construction, and didn't know construction was even a career path I could choose – I used to think the jobsites I would see from the backseat of the car were ugly. If she can see from her age that "hey, my big sister isn't scared of those ugly jobsites" or "if she can do it, so can I", I can only imagine where she could be at my age.  
The earlier the exposure to this industry, the more time we give girls to learn what this industry is about. We could start with something as simple as encouraging employees to participate in "Take Our Daughters and Sons to Work Day," (which is April 28th this year, by the way.) Or working with local schools to do class tours at nearby job sites. Let's get little girls exposed to what their moms and dads in an industry that little girls don't hear much about. It might sacrifice productivity for a day, but it also might plant a seed in the minds of our next generation of women in construction.  
For anyone considering a career in construction, an internship or co-op rotation in the field is an extremely beneficial experience. As a college co-op for Hoar, I cycled through a project management, preconstruction, and field rotation. I started my rotations in the office – and I didn't want to go to the field because honestly, I was scared of it. I thought I was an office girl only. But as soon as I stepped foot in the field for the first time, I loved it. I wished I had gotten out there sooner. I learned more in the field than I ever did in any college class. More importantly, I learned that it's not scary or intimidating to be out there. I learned that I am also a field girl. Jobsite exposure is important to all of us in this industry, but I think getting our female co-ops and interns in the field as much as possible is important for their professional development and personal growth as young women in this industry. It's an opportunity to gain confidence, an in-depth understanding of how projects are built, and is definitely a place to sharpen your leadership skills. I joined Hoar full time after graduation and spent a lot of my rookie year in the field. I led crews of men more than twice my age in the field – and they followed my leadership. The confidence and leadership skills that were quickly gained in the field have continued to serve me well as I continue my career in preconstruction today.   
As a woman working in construction who loves her job, I'm excited to see any movement in the right direction — but I want to see more. Women in the workforce have come a long way, and I'm sure my grandmothers never imagined when I was little that they'd one day see their granddaughter helping to build hospitals. It gives me hope that one day, we can stop talking about construction as a male-dominated industry, and instead just as a thriving industry that has limitless opportunities for anyone.
Envision Equity: Recruiting More Women to Construction
By Kacie Lynn James, Project Engineer
Join our subscribers to keep up with the latest content from industry experts.