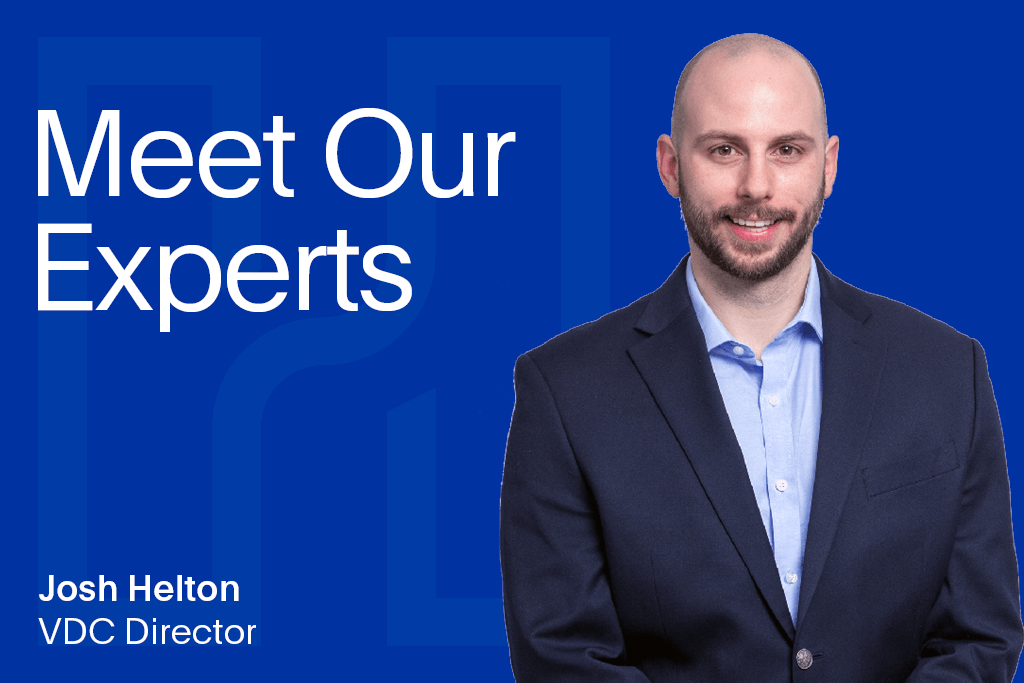 VDC Director Josh Helton leads our dedicated Virtual Design and Construction team. Get to know more about him in just 8 questions.
1. What's your day-to-day look like?
Like most VDC personnel, no two days ever look the same. Some days I'm collaborating with a teammate to navigate a uniquely difficult situation on a project, and other days we're working through tracking constructability issues while pushing for solutions. More likely than not, every day we're looking for more ways to add value to our project teams.
2. What's the one lesson you've learned in this industry that's stuck with you?
You cannot overcommunicate in this industry. Especially deploying Building Information Modeling (BIM) processes, the "I" is the single most important piece. The more information shared with all project stakeholders (Design partners, owner, and project team) the better.
3. What's the last thing you did to help make a project run smoother/last thing you did to serve a client better?
I sat down with the end user for a healthcare client and virtually "walked" them through the coordination model so they could make sure the space was going to work best for their department. Several changes were noted and implemented into the drawings based on this end user's review. This process significantly helps people get a better understanding of the space they'll be working in rather than relying only on 2D drawings.
4. How did you get started in the industry?
I was exposed to several CAD classes in high school that really got me into the technology side of our industry. From there, I went to school for Civil Engineering with an Architecture focus and then for Architectural Engineering Technologies. The idea of using technology to improve efficiency, reduce waste, and reduce costs is what drew me in to this type of work in construction.
5. What are you working on now?
I'm currently focused on growing our team to support the increase in demand for our services across the organization.
6. What's the best part of your job?
Doing anything we can to make our project teams' lives easier. I still love the reaction we get from folks when we are able to use technology to address an issue, enable them to access all the models on their computers or mobile devices, or provide a service that goes a long way for them or the owner.
7. What's your hidden talent?
It always surprises people when I mention that I skateboard with my kids a lot, so I'd say skateboarding or playing guitar/singing.
8. What's your favorite movie?
This is VERY tough to answer. I love so many different genres of movies, but sci-fi is probably a favorite. So, I would say the movie Interstellar. I find space fascinating and the science behind how it interacts with time has always piqued my interest.
9. What's your fondest memory from your time with Hoar Construction?
Working out of the superintendent trailer at the Broadwest project in Nashville had to be one of my most favorite locations I've worked in. It was a massive project and a very large team. Too many funny moments and memories from working out there.
10. What's your proudest accomplishment?
Outside of my amazing family at home, my proudest workplace accomplishment is seeing the growth and development of the people on our team. Each and every time I get to hear positive feedback about someone on the team I think I get more excited than they do! It brings everything full-circle when a project brags on our VDC personnel, especially since our mission is purely value-driven. Plus, it gives me more reasons to brag on the team myself.
Meet Our Experts: Josh Helton
By Josh Helton, VDC Director
Join our subscribers to keep up with the latest content from industry experts.
Subscriber Form
"*" indicates required fields