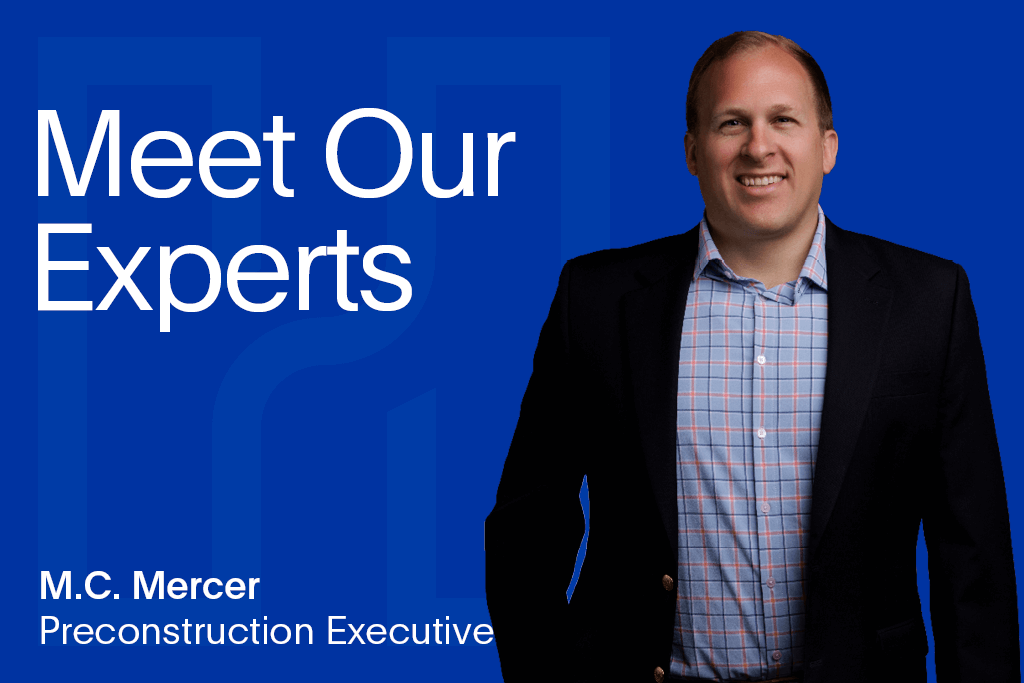 M.C. Mercer is a Preconstruction Executive leading our North Texas office. Get to know more about him in just 8 questions.
1. What's your day-to-day look like?
Every day is different! As a new office we stay busy pursuing new opportunities, so my typical day usually involves some aspect of preconstruction, as well as getting out in the market to network and meet new folks. Because we are a young office, we all wear multiple hats, but that's what makes what we do fun.
2. What's the one lesson you've learned in this industry that's stuck with you?
Never be afraid to say, "I don't know the answer, but I'll work to find out."
3. Describe the last challenge/problem you solved on the job?
Most of our challenges these days revolve around budget issues. On one of our current higher education projects, I'm proud of what our team has accomplished in preconstruction. In August 2022, we were handed a budget that the owner prepared in 2020. We've worked diligently to help the client determine what they can afford in today's market with their now three-year-old budget, and that project breaks ground next week!
4. How did you get started in the industry?
I started co-oping my sophomore year of college with a large commercial general contractor and haven't looked back since. It's been quite a journey and I have many, many people to thank along the way for where I'm at now.
5. What's the last thing you did to help make a project run smoother/last thing you did to serve a client better?
"Treat each project as if it's your own" is a mantra that has never let me down. Our clients keep us in business; therefore, their projects should become our own.
6. What's the best part of your job?
Seeing our team come together and be successful. There's nothing more rewarding.
7. What's your favorite movie?
The Departed
8. What's your fondest memory from your time with Hoar Construction?
The Texas 20th anniversary party at the Redneck Country Club is a fun memory from my time in Houston. More recently, being awarded our first two projects in North Texas within 3 weeks of each other is a feeling most of us up here will never forget!
Meet Our Experts: M.C. Mercer
By M.C. Mercer, Preconstruction Executive
Join our subscribers to keep up with the latest content from industry experts.